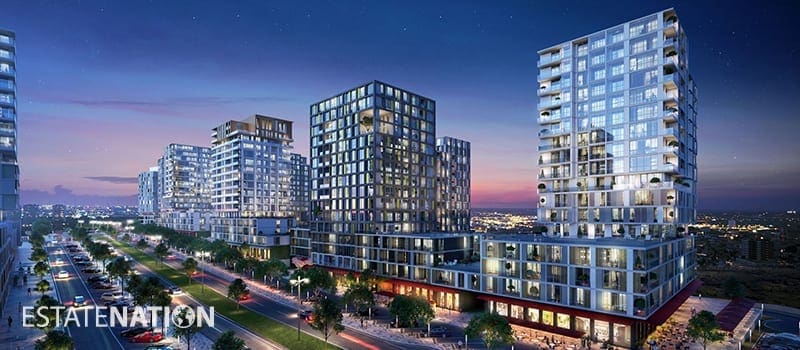 Spread over a 34100m2 area, this unique project is rises and features with architectural blend between classic and modern design, with its 880 apartments spread over six buildings and 17 floors high each.
The size of the apartments and the number of rooms varies to meet all needs, between a room and a lounge with area of 58 to 80 m2, two rooms and lounge with area of 96 to 146 m2 and three rooms and lounge with area of 135 to 181 m2. It provides customers with 36 months installments.
Project Location and Transportation:
The project is located in "Bahçeşehir", famous with its charming gardens, close to the road to Istanbul third airport, which is only 20 minutes away from the project and close to "Yavuz Sultan Selim" Bridge.
It is also close to the metro line that provides transportation to and from the project, which is 5 minutes away from "Hayat Park", and is close to "Akbatı" Mall.
Public Services and Facilities:
"Bahçeşehir" is famous for its beauty and elegance is becoming increasingly important with the availability of services that ensure the residents comfort and wellbeing, and here are the closest hospitals to the project: "İstinye iversniversitesi Liv Hastanesi", "Özel Reyap Hastanesi", "Özel Esencan Hastanesi", "Eslife Hospital" and "Esenyurt Devlet Hastanesi".
The closest schools to the project are "Gökkuşağı Koleji", "Topkapı Koleji Esenyurt Şubesi", "Mev Koleji Büyükçekmece" and "Toki Kırımlı Fethiye Şükrü Olcay Ortaokulu".
The closest shopping centers are "Demir Park AVM-KONUT", "Eskule, Çarşı Pazarkent AVM", "Prestige Mall", "Sunflower Life Center", "Parkway", "Han Plus" and "Özyurtlar Avym".
Project Features:
The project is featured by its high residential location, as well as the protection system. Private security and surveillance services are available around the clock with closed and open car parks. The project is built according to earthquake regulations and insulation systems, and provides emergency ladders.
Its facilities and services provide the comfort and well-being of the residents such as elevators, water tanks, generators, wireless internet and central heating, with indoor swimming pool, Turkish bath, sauna room, fully equipped fitness center, children's playgrounds, basketball court and playground. Volleyball and tennis court, large green areas with walking trails, and spacious apartment balconies with shopping malls, cafes and restaurants
For more details about this or any other project, please contact us.
Delivery Date:
December 2020
Monthly Installments (TRY): 36
Monthly Installments (TRY): 48
Monthly Installments (USD): 60
| Type | Size Range | Price Range |
| --- | --- | --- |
| 1 + 1 | 58 – 92 M2 | TRY 498.000 – 743.000 |
| 2 + 1 | 96 – 149 M2 | TRY 742.000 – 1.144.000 |
| 3 + 1 | 135 – 181 M2 | TRY 983.000 – 1.445.000 |
| 4 + 1 | 200 – 222 M2 | TRY 1.438.000 – 1.537.000 |
| Dublex 4 + 1 | 210 – 270 M2 | TRY 1.602.000 – 2.277.000 |
| Dublex 5 + 1 | 233 – 283 M2 | TRY 1.831.000 – 2.366.000 |
More Projects in This Area