Hotel Apartment for Sale in Esenyurt Istanbul – EN213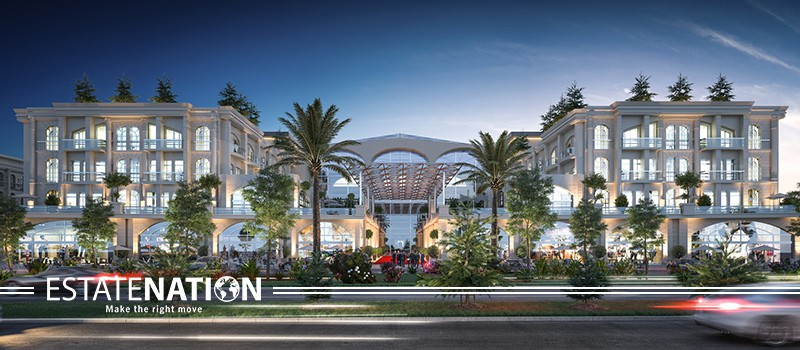 This project appears to be an ideal choice for those looking for a different life, with its only building and three floors and adjacent to the hotel and offices, it appears as if you are in an integrated city, especially with the project having 3 shopping centers. The project includes 427 apartments between one living room with an area of ​​40 m2, or a room and a lounge with an area of ​​78 m2, and rises on a land area of ​​68.940 m2. And it offers to pay the property price within 36 months after a down payment of 30% of the total amount.
Project location and transportation:
The project is located on the European side of Istanbul in "Esenyurt" region with an accelerating architectural renaissance, specifically in the Dhafir neighborhood, and it is 15 minutes from Ataturk Airport and 20 minutes from the Boss metro station, but it is directly connected to the main prominent artery of Istanbul E5 transportation, which facilitates access. From him to him in the city.
Services and public facilities:
Esenyurt region has gained a great reputation, especially among the Arab community, a large number of whom reside in it, and this attention has increased by the attention that the Turkish government has given to the region, so it has been concerned with the arrival of public transportation to it from all sides of the city, as well as many health and educational facilities and centers Shopping and entertainment made life in this area comfortable and easy. You can meet a number of shopping malls surrounding this project such as "Torium Avm", "Avcılar Pelican Amv", "İstaNbuL AVM", "Pelican Mall" and "Eskidji Bazaar Haramidere". You can also find a large number of public and private hospitals in the project area like "Özel Etik Life Tıp Merkezi", "Avcılar Murat Kölük Devlet Hastanesi", "Beylikdüzü Medilife Hastanesi", "Avcılar Anadolu Hastanesi", "Esenyurt Devlet Hastanesi" and 'Özel Medilife Hastanesi".
As for the schools, they are also densely populated to serve the population, and the closest schools to the project are "Esenyurt Toki Ali Duran Kız Teknik Ve Meslek Lisesi", "Özel Değişim Koleji", "Özel Eğitim Bilimleri Ortaokulu", "Mehmet Emin Horoz Anadolu Lojistik Meslek Lisesiğcole" and "Avyanus".
Project features:
The project site appears to be one of the most important features of it, as it is attractive to those who wish to live in modern urbanization in Istanbul, as it is distinctive for Arabs who prefer to live in an area where there are many Arab community members, as well as a system of protection that provides security service around the clock with surveillance camera and car parking Closed and secure entry system with electronic card, and it is built according to earthquake regulations and isolation systems.
The project's various facilities featured it by making it a comfortable and enjoyable life for residents ranging from elevators, central heating, generators and water tanks through to the indoor swimming pool, outdoor swimming pool, Turkish bath, sauna room, steam room, children's pool and children's playground The walking path in the spacious green garden, which is adorned with a beautiful pool and overlooking the balconies of the apartments and the fully equipped gymnasium, so that guests spend with their families a more beautiful time in their private space, which makes safety and well-being I am for their lives.
If you find yourself in front of the project you aspire to, do not hesitate to contact us to see more details of this project, and if you are looking for different criteria, you will find us at your service to see the list of our various projects that will undoubtedly provide you with what you want without effort,

call now

.
Delivery Date:
Ready To Move

| Type | Size Range | Price Range |
| --- | --- | --- |
| 1+0 | 60- 66 M2 | Sold Out |