Turkish Airlines: What makes featured?
It is often not possible to talk about real estate investment in Turkey without talking about the advanced transportation infrastructure in it, and among the most important of these infrastructures are its airlines, which have become a featured position globally, whether you are planning to travel on a long or short trip, and whatever your purpose of travel, Like business, investment, study or tourism, you need to arrange your travel affairs and choose the best airline to ensure a comfortable and enjoyable trip on the plane. In today's article, we will discuss one of the best airlines in the world, Turkish Airlines.
Turkish Airlines was founded in 1933 and its fleet consisted of only 13 aircraft. Today, it is a four-star company with a fleet of more than 335 aircraft. Its flights depart from its main base at

Istanbul New Airport

to more than 233 destinations around the world; 38 domestic destinations, and 195 international destinations distributed in Europe, Asia, Africa and the Americas.
Turkish Airlines has won the Skytrax Awards for Best Airline in Europe, Best Airline in Southern Europe, and Best Economy Class Air Seat in the World for three consecutive years in 2011, 2012 and 2013. It retained its place as the largest European airline in 2014 and 2015. It is a member of the global "Star" alliance, in addition to being the fourth airline in the world in terms of the number of destinations.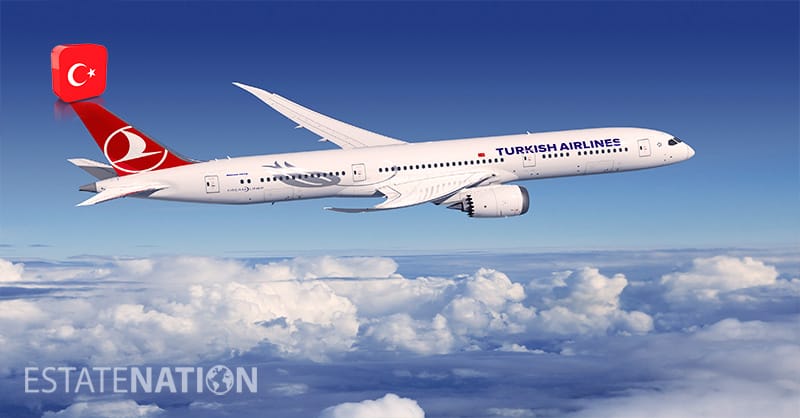 Here are some of the features that made Turkish Airlines one of the best airlines in the world:
It is distinguished, first, by a fleet of modern aircraft equipped with the latest technologies in the world of aviation.

In terms of interior design, the cabins contain comfortable seats that can be fully or partially retracted, in addition to a headrest, and other means of relaxation, which vary according to the class, such as eye masks and earplugs.

The booths also contain modern personal display facilities, and a variety of entertainment contents suitable for all age groups, in addition to free Wi-Fi.

The crews working in Turkish Airlines receive high-level professional training to ensure optimal hospitality to the passengers, and it is worth mentioning that they speak English fluently.

Speaking of hospitality, Turkish Airlines is distinguished by providing integrated meals for all passengers, and there is a varied menu that takes into account the diets and religious and cultural beliefs of all passengers on all classes on board.

And last but not least, Turkish Airlines is characterized by ease of booking, the ability to confirm the reservation and complete the entire procedures through the company's website.
How to book in Turkish Airlines
The Turkish Airlines website

www.turkishairlines.com.tr

makes it easier for its customers to book and pay for travel tickets, and it also facilitates the process of obtaining an electronic visa to enter Turkish territory, in addition to providing distinguished services during or after the trip, such as travel insurance, hotel reservation, and rental A car, organizing tours, transferring luggage between airports or shopping centers and even to the place of residence.
The company also launched a telephone call center in Arabic for its Arab customers, so that customers receive the service in their mother tongue.
To complete the Turkish Airlines travel procedures comfortably, it is preferable to be at the airport well in advance of the flight, because the registration offices close 45 minutes before the domestic flights, and 60 minutes before the international flights.
Classes of travel on Turkish Airlines flights:
Turkish Airlines offers two classes with special benefits: Economy Class and Business Class.
Economic Class:
It features comfortable seats with headrest and extra legroom, which can be moved forward and backward, and passengers are provided with blankets, eye masks and earplugs in this class.
In terms of entertainment, Turkish Airlines offers entertainment content suitable for all ages, such as electronic games for children, a large variety of films, music and children's programs, and Turkish Airlines economy class passengers can browse and read the issues of Sky Life electronic magazine.
Breakfast and lunch are served from Turkish and international cuisines, prepared from fresh seasonal ingredients. Snacks such as cakes and sandwiches are also served, and menus are certainly available for special dieters.
business class:
Passengers of this class enjoy the same benefits as Economy Class, with additional benefits:
Passengers in this class are allowed to carry heavier luggage than economy class passengers.
Passengers of this class are checked in and checked in baggage faster than the rest of the passengers. They also have a private lounge at Istanbul International Airport and private suites with bathrooms and amenities.
In conclusion, here are two things you may not know about Turkish Airlines:
The white and red Turkish Airlines logo represents the "wild goose", because it is one of the most powerful birds capable of flying for very long distances.
– Turkish Airlines is the official sponsor of a number of sports teams; Like Manchester United, Barcelona and many Turkish sports clubs.
If you have any question about the real estate sector in Turkey, and are looking for a reliable and experienced company in the Turkish real estate sector, we are ready to help you make the best choice,

Call Now

.