Cheap Apartments for Sale in Bahcesehir Istanbul – EN214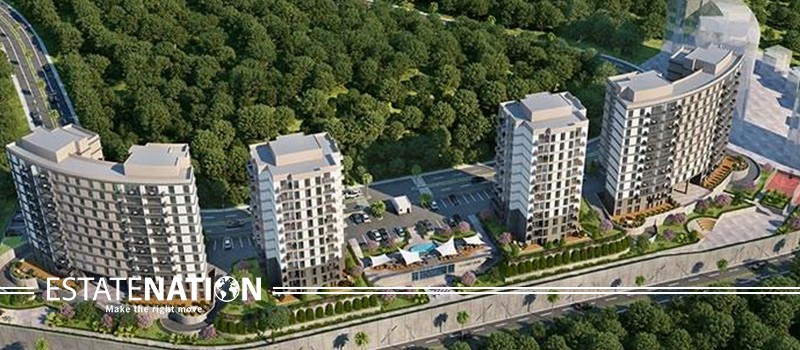 This project represents one of the high-end projects that offer a quiet lifestyle as each floor includes three apartments, and extends over an area of ​​13053 square meters, and consists of one building with eleven floors, and includes 194 apartments vary between room and lounge area of ​​58 square meters, And two rooms and lounge area of ​​120 to 150 square meters, three rooms and lounge area of ​​150 to 169 square meters, and four rooms and lounge area of​​229 to 408 m2.
Project location and transportation:
At the highest point in "Bahcesehir" district, this project rises, providing its apartments with panoramic views of the lake and the valley, and enjoys a central location as it is on the road to major projects in Istanbul, such as the Istanbul Canal and the third airport, which is 25 minutes from the project.
The project is separated from the main road TEM 3 minutes and the pivot road E5 15 minutes, as it is separated from the "Sultan Yavuz Suleiman" Bridge 18 minutes and from Ataturk Airport 3 minutes and from Aqua Dolphin 5 minutes and between it and the lake one minute, as it is surrounded by transportation and services Varied public.
Services and public facilities:
Bahcesehir is one of the finest residential areas in Istanbul, and it is inhabited by those wishing to live a farewell life away from the hustle and bustle of the city, and it provides them with the health, educational and recreational services they need. The nearest hospitals to the project are "Medicos Estetik ve Güzellik Merkezi", "Nutraslim Poliklinigi Bahceşehir infinity agız ve diş saglıgı Merkezi", "KristalDiş Ağız ve Diş Sağlığı Polikliniği, MEDLAY ESTETİK", "Bahcesehir Diş Kule" and 'DENT BAHÇEŞEHİR".
The closest schools to the project are "Özel Bahcesehir Reyhan Özel Rehabilitasyon ve Eğitim Merkezi", "Şehit Şerife Bacı ÇokProgramlı Anadolu Lisesi", "Gürdal Yuva Bahçeşehir", "Orhan Gazı Ilkogretım Okulu" and "Bahcesehir Suleyman ikulçilik".
The closest shopping malls to the project are "Hillpark Bahcesehir", "Akbatı", "Sunflower Life Center", "Atrium", "Prestige Mall", "LOCA" and "Verde Molino A.V.M".
Project features:
The project is featured by its family residential location, which is also an opportunity for investors because of the rapid urban renaissance witnessed in the region due to its location near the main modern centers in Istanbul, and the project features a protection system that provides security service over time with surveillance camera and open and closed car parking And being built according to earthquake regulations and insulation regulations.
The project offers its guests all the details necessary to spend their lives in comfort, pleasure and well-being such as elevators, central heating, water tanks, generators, Turkish bath, indoor swimming pool, children's pool, sauna room, children's playgrounds, football field, basketball court, and Tennis court, ski area, chess park, fully equipped fitness hall and hiking trail in the green garden decorated with artificial water pool.
The apartments of the project are also distinguished by their balcony with a charming view of Bahçeşehir Valley and Lake, which gives the residents a tranquility adjacent to the green and blue in an atmosphere of calm and sophistication. You can view more details of this prestigious project or other projects by contacting us,

call now

.
| Type | Size Range | Price Range |
| --- | --- | --- |
| 2+1 | 125 – 137 M2 | TRY 740.000 – 894.000 |
| 3+1 | 160 M2 | TRY 1.100.000 |