Beautiful Ready to Move Apartment Next to Metrobus – EN148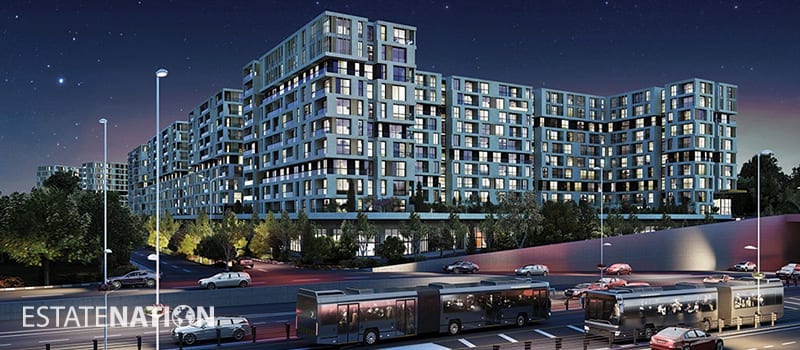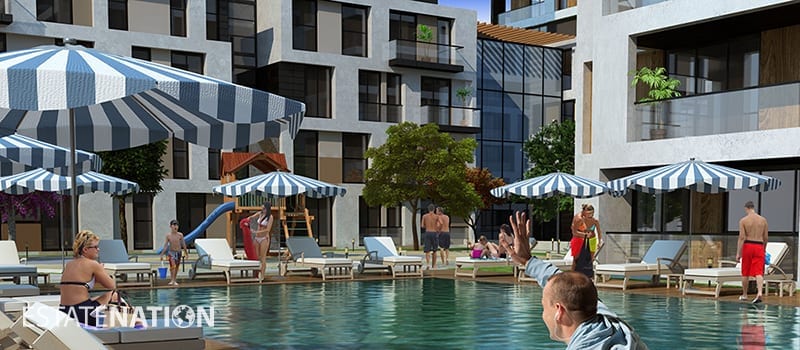 On the European side of Istanbul and in one of the fastest growing areas, this project stands and is distinguished by its elegant design, with its integrated services on area of ​​73800 m2, of which about 30 thousand square meters were allocated to shops and 230 thousand square meters of green spaces to meet the charming greenery with sea blue in natural harmony and wonderful view.
The project consists of 15 buildings comprising 1155 apartments, 116 shops and up to nine floors with distinctive views of the sea and nature.
The apartment options in this project range from a no-bedroom apartment with area of 40 to 55 m2, a one-bedroom apartment with a lounge  with area of ​​67 to 78 m2, two rooms and a lounge with area of ​​86 to 125 m2, three rooms and a lounge with area of ​​154 to 173 m 2, and four rooms and lounge with area of ​​212 m 2.
Project Location and Transportation:
In the region that is now considered as the second center of Istanbul after "Taksim", in renaissance and modern "Beylikduzu" area, which is close to "Ataturk" Airport and the third Istanbul Airport, and the important exhibition city "Tüyap", the largest exhibition area in the city, which is experiencing a remarkable urban development that gives all its project a clear investment dimension.
The project is located next to the E5 motorway, which gives you access to your home without getting into traffic jams, just steps away from metrobus, which is one of the most important means of transportation in the city, and all kinds of public transport to the city are available.
Services and facilities:
If you are looking for a comfortable and easy life, you are in the right place, where you will enjoy both the beautiful nature and the civil life services. You can enjoy your location near the sea and meet your needs through shopping malls near you. "Beylikduzu" which is bustling with restaurants, cafes, hospitals, shopping centers, schools and private universities, makes the region eligible for the winning investment.
Project Features:
The project is featured by its unique location and its natural and aesthetic beauty. The construction company is also distinguished by the use of the finest materials of marble, ceramics and wood, guaranteeing the luxury and welfare of the residents who enjoy maximum protection through the advanced security system, Fire alarm and automatic extinguishing, and a system for communicating with the security of the complex directly through video, in addition to a security team and guarding full time with surveillance cameras.
The project is built according to the latest building techniques and according to seismic regulations, isolation and sound insulation regulations. It is equipped with essentials for your comfort from natural gas, central heating, water tanks, generators, lifts, open and closed parking, wireless internet and satellite reception.
You can play your favorite sport at the football field, the basketball playgrounds, the volleyball playgrounds, the tennis playgrounds, the fully equipped gym, walking trials or enjoy your time in the indoor or outdoor swimming pool, sauna, massage parlor, restaurants and cafes.
Families can spend the most beautiful time in the large gardens decorated with a beautiful pond and children's playgrounds to ensure a safe and enjoyable place for them.
You can find more details of this important project by contacting us.

Call Now

.
Delivery Date:
Ready to Move

| Type | Size Range | Price Range |
| --- | --- | --- |
| 0 + 1 | 38 – 50 M2 | TRY 1.500.000 – 1.700.000 |
| 1 + 1 | 67 – 81 M2 | TRY 2.200.000 – 3.300.000 |
| 2 + 1 | 102 – 117 M2 | TRY 2.500,000 – 5.300.000 |
| 3 + 1 | 158 – 170 M2 | TRY 4.400.000 – 6.500.000 |
| 4 + 1 | 212 M2 | مباع |