Real Estate for Sale in Ispartakule Istanbul – EN132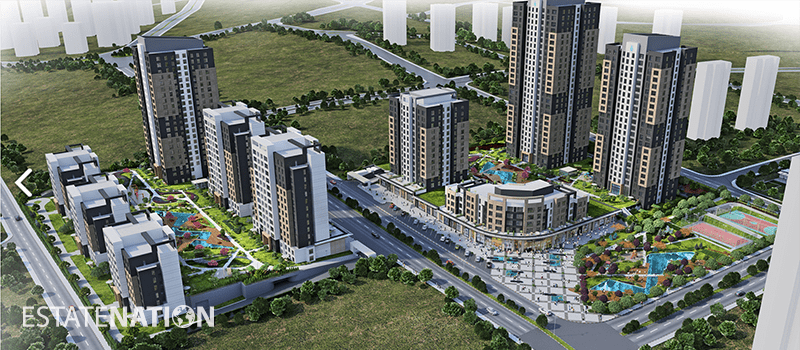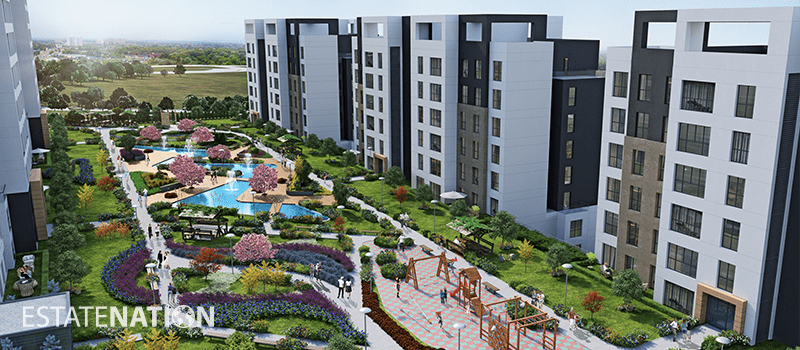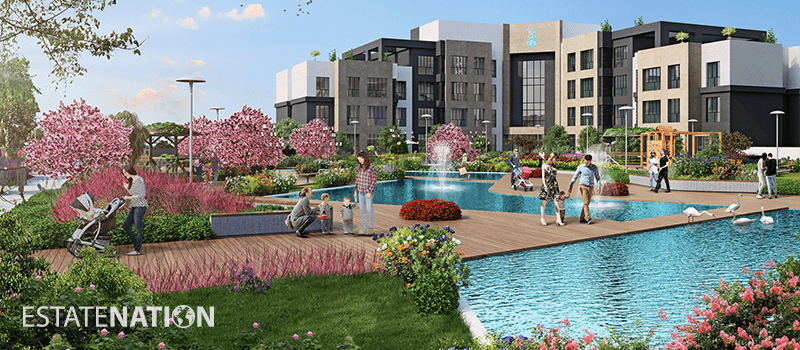 This project stands on area of 41168m2, consists of 10 buildings ranging from four floors mansions, to 27-floors towers, with 724 apartments and 52 stores. The apartments and their family options vary from two rooms and lounge with area of ​​114 to 137 m2, three rooms and Lounge with area of ​​162 to 209 m 2, and four rooms and lounge with area of ​​192 to 208 m 2.
Project Location and Transportation:
The project is located on the European side of Istanbul, in the high-end "Ispartakule" district, a minute away from the TEM highway at the point of contact with the north Marmara highway. It is also close to the port of "Avcılar" and from the "Yavuz Sultan Selim" bridge and the new metro route which will be operational at the end of 2019.
The project close to Ataturk Airport from 21 km, and 24 km from Istanbul third Airport, as the various public transport buses pass through it.
Services and facilities:
The vital project site is qualified for family housing and is surrounded by various services. The most important hospitals surrounding it are "Esteticium Bahcesehir", "Inönü aile sağlığı Merkezi", "Istinye Üniversitesi Liv Hastanesi", "Özel Esencan Hastanesi" and "Elitium Cerrahi Tıp Merkezi".
The most important schools nearby are "Toki Salih Şükriye Yoluç İlköğretim Okulu", "Istanbul Akademi Koleji", "Cihangir Koleji" and "İncirtepe İlköğretim Okulu".
The most important shopping malls are "Titanic AVM Ispartakule", "AKBATI AVM MarkaPark", "Kaya kuyumcusu", "Demir Park AVM-KONUT" and "Akbati".
Project Features:
This project is featured by the protection system. The private security service and surveillance cameras are available 24 hours a day with open and closed parking spaces, fire and smoke detectors and video intercom system. The project is built according to seismic regulations and isolation.
The residents find all the necessary services for their comfort and well-being such as elevators, generators, natural gas, water tanks, central heating, central air conditioning, satellite reception, large green area of ​​6000 m2, decorated with a decorative pool, basketball playgrounds, tennis and fitness center. A fully equipped fitness center, a walking trail, an indoor swimming pool, a sauna, a steam room, children's playgrounds and a shopping center.
You can see more details of this outstanding project and other projects by contacting us,

Contact Now

.
Delivery Date:
Ready To Move
| Type | Size  | Price  |
| --- | --- | --- |
| 2 + 1 | 128 M2 | TRY 6,032,000 – 6,117,000 |
| 3 + 1 | 168 M2 | TRY 7,997,000 – 8,179,000 |
| 4 + 1 | 208 M2 | TRY 10,315,000 – 11,500,000 |
| shop | 94 – 216 M2 | Sold Out |